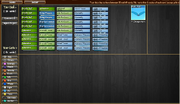 Hello there, I'm chrissteel, a gold-league member and player since 2011. I was back to the game and in the searching for a good "farm" deck I idealize this one. It was simple but very strong and easy to play.
It no longer needs upgraded cards but for silver and gold leagues it's preferable.
I'm playing with 5 Emerald Towers and 5 Wind Towers plus 5 Life Pendulums.
The reason of using only 15 "pillars" is that I also use 5 Damselflies, a good starter with no cost that adds to your quanta 1 air per turn.
The rest of deck consists on 6 Eagle's Eye, 6 Jade Staffs, 6 Epinephrines, 6 Shards of Freedom and 6 Animate Weapons. A total of 50 cards.
The decks strategy consists on dealing tons of damage with your weapons using Animate Weapon + Epinephrine. Also the "adrenaline" buff gets for your Jade Staff more turns, so, more 5 life per hit ending in a 15 life at end of turn (if i'm wrong please correct me) this combo may save you against aggro decks and gives great comebacks at tough duels. Even Damselflies get more air quanta per turn based on this buff.
The Shards provides for your animated weapons (and damselflies) protection against targets, chance to deal 50% more damage and also shielding avoid . For creature control you got one of the best removals in the game which is the Eagle's Eye.
I hope you guys enjoy this guide, and i'm sorry for my bad english any suggestions will be accepted.
cya -chrissteel :D
Ad blocker interference detected!
Wikia is a free-to-use site that makes money from advertising. We have a modified experience for viewers using ad blockers

Wikia is not accessible if you've made further modifications. Remove the custom ad blocker rule(s) and the page will load as expected.