Welcome to Elements the Game Wiki
The wiki is dedicated to Zanzarino's fantasy card game,
Elements
Please note that also a trainer is available for Elements.
Decks Reference
Level 5 - False God

Akebono


Chaos Lord


Dark Matter


Decay


Destiny


Divine Glory


Dream Catcher


Elidnis


Eternal Phoenix


Ferox


Fire Queen


Gemini


Graviton


Hecate


Hermes

Featured Card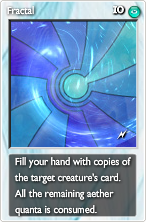 Note: When playing the computer, if this card is played by the computer it has the tendency to replace already existing cards in the computer's hand, thus giving them an unfair advantage.
Click it!
Ad blocker interference detected!
Wikia is a free-to-use site that makes money from advertising. We have a modified experience for viewers using ad blockers

Wikia is not accessible if you've made further modifications. Remove the custom ad blocker rule(s) and the page will load as expected.