Welcome to Elements the Game Wiki
The wiki is dedicated to Zanzarino's fantasy card game,
Elements
Please note that also a trainer is available for Elements.
For your information:
A new wiki is under construction
here
. Good stuff on this wiki will be migrated to the new one as soon as possible. It is highly likely that after the migration this wiki will be shut down or remain unmaintained.
Decks Reference
Level 5 - False God

Akebono


Chaos Lord


Dark Matter


Decay


Destiny


Divine Glory


Dream Catcher


Elidnis


Eternal Phoenix


Ferox


Fire Queen


Gemini


Graviton


Hecate


Hermes

Featured Card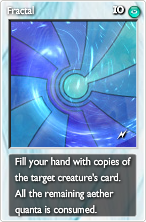 Click it!