List of Cards
Edit
Ferox has 2 copies of each of the following cards:
Import Code:
7ac 7ac 7ac 7ac 7ac 7ac 7ac 7ac 7ac 7ac 7ac 7ac 7ac 7ac 7ac 7ac 7ac 7ad 7ad 7ad 7ad 7ae 7ae 7ae 7ae 7af 7af 7af 7af 7af 7af 7ag 7ag 7ag 7ag 7ak 7al 7am 7am 7am 7am 7am 7am 7an 7an 7jp 7jp 7jp 7jp 7jp 7jp 8pn

Creature Control: None
Permanent Control: None
Ferox is one of the new false gods introduced to the game with the Elements 1.16 patch.
Strategy With a Standard Rainbow
Early Game
This false god usually opens the game with a heavy creature spam, including Elite Cockatrices, Leaf Dragons, and Giant Frogs. Basically you need to play your sundials efficiently while using hourglasses to reach two key items: Rain of Fire and Bone Wall. Since most of Ferox's creatures have less than 3 hp, you can play bone wall and then RoF or FS his creatures to gain a huge advantage. (RoF = Rain of fire, FS = Fire storm)
If you can't find either of those spells, hopefully you have the Aether Quanta to play a dimensional shield, as they provide a stable alternative to RoF and Bone Wall. Also use sundials to survive and search for your RoF and BW.
Steal: Emphatic Bonds if you have a large bone wall, or Druidic Staff if you have used dimensional shields and sundials.

Mid Game
By now you should have a somewhat stable quanta flow, and be able to play your Otyugh (or two) and start eating what you didn't kill with Rain of Fire. Use the rest of your sundials to protect your bone wall while you eat the remainder of Ferox's army. Play your creatures without fear, since ferox has no creature control.

End Game
You should have your druid, FFQ, and Otyugh going strong, and should eat this god's creatures as they come out.
Notes: Watch out for early Jade Dragons, they hit hard and if you don't have an Otyugh out, you could be in trouble.
This god is very easy with a rainbow deck.
If you can get a Ulitharid/Electrocutor or Otyugh out early, lobotomizing or devouring his leaf dragons will leave him with very little life quanta. When he does get the dragons out, stall with Phase Shields and Sundials while drawing cards with Hourglasses until you get Fire Storm and Bone Wall. A Graveyard and Fallen Druid will also help.
When you get it, use Fire Storm to kill his Rays of Light, Giant Frogs, and Leaf Dragons and get a massive Bone Wall. If you have a big enough Otyugh, you can eat his dragons or if you have Antimatters you can use those to get 12 healing per turn.
Once you have a Otyugh or two eating all of his creatures and a few Bonds/Bone Walls keeping you alive, it's basically over.
If you want to have some fun, wait until you have a Fallen Druid on the field and use it to create mutants from Skeletons. Your goal is to get one with steal to steal all of his Feral Bonds. This will pretty much guarantee mastery. I ended with 6 Feral Bonds (with 23 creatures, that's 138 healing per turn. And that's not counting the additional 10 from shards and 17 from the Antimattered frog and dragon) and 48 stacks of Bone Wall :D
Gallei says: Your best bet, is the god killer deck. But for that one add some specific pillars of a certain type instead of the organic version with random generating. Why? Because you end up generating what you don't need. And, for the bottom picture what is with the weirdo 5x artifact which kinda looks like a lamp post. Any replies? Reply over line pls :)
--------------------------------------------------------------------------------------------------------------------------------------------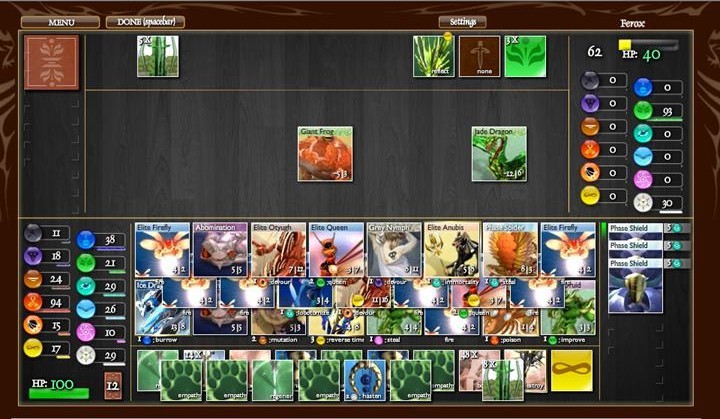 ---
Fake Gods
Akebono

Chaos Lord

Dark Matter
Decay

Destiny

Divine Glory

Dream Catcher

Elidnis

Eternal Phoenix

Ferox
Fire Queen

Gemini
Graviton

Hecate

Hermes
Incarnate
Jezebel

Lionheart

Miracle

Morte
Neptune
Obliterator

Octane
Osiris

Paradox

Rainbow

Scorpio

Seism
Serket
Ad blocker interference detected!
Wikia is a free-to-use site that makes money from advertising. We have a modified experience for viewers using ad blockers

Wikia is not accessible if you've made further modifications. Remove the custom ad blocker rule(s) and the page will load as expected.