Import Code:
61o 61o 61u 61u 622 622 622 622 5oc 5oc 5od 5od 5od 5of 7n2 7n2 7n2 7n2 5ok 5ok 5ok 5ok 5ok 5ol 5ol 5pu 5pu 5pu 5pu 5pu 5pu 5pu 5pu 5pu 5pu 5pu 5pu 5pu 5pu 5pu 5pu 5lk 5lk 5lk 6rn 8pu

===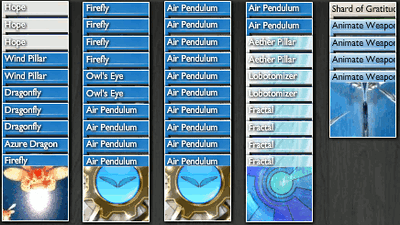 -By OdinVanguard=== Another deck orginally designed as an arena deck. The idea is to use fractal to build a large number of fireflys more rapidly than would be possible with firefly queen. Though it lacks the healing ability of the firefly queen based counterpart, being able to add a lobotomizer effectively can be quite useful.
5 Firefly
3 Dragonfly
3 Hope
2 Owl's Eye
2 Lobotomizer
4 Flying Weapon (or animate weapon)
4 Fractal
1 Azure Dragon
1 Shard of Gratitude (Can Substitute Sanctuary)
16 Air Pendulum
2 Air Pillar
2 Aether Pillar
Mark of Aether
This is just a first draft. The ratios could certainly use some work so feel free to comment if you find a better mix.
Strategy:Edit
Pretty straight forward. Play dragonflies and fireflies and use fractal to multiply them. Be sure to keep one each in reserve in case of firestorms or the like. Play the hope shield as soon as possible since it cant be destroyed. Owl's Eye and lobotomizer provide good creature control. Depending on the type of opponent you may or may not want to animate them immediately. Remember that although this will protect them from steal and deflegrate, they will be vulnerable to damage. Owl's eye is generally fairly hearty with a full 7 hitpoints so it makes the best animate candidate. Lobotomize gets only 4 on animation so be cautious as lightening and shockwave will destroy it easily. Remember to focus on any creatures that may damage your fireflies as they are not only your offense but defence as well. Finally, for long lasting games, it is worthwhile to keep a fractal in reserve for use on the dragon to help punch through shields or overwhelm a heavy healing deck.
Comments:Edit
I just put this one up in the arena before writting this page. I'll post more once I see how it does. Please feel free to write any suggestions tweaks etc. below.
Where would you get the life quanta for playing shard of graditude from ?
Ad blocker interference detected!
Wikia is a free-to-use site that makes money from advertising. We have a modified experience for viewers using ad blockers

Wikia is not accessible if you've made further modifications. Remove the custom ad blocker rule(s) and the page will load as expected.