List of Cards
Edit
Hecate has 2 copies of each of the following cards:
Import Code:
7dr 7dr 7dr 7dr 7dr 7dr 7t4 7t4 7t4 7t4 7t4 7t4 7t4 7t4 7t4 7tb 7te 7te 7te 7te 7tg 7tg 7tg 7tg 7tg 7tg 7th 7th 7th 7t9 7t9 7ta 7t8 8po

Permanent Control: 4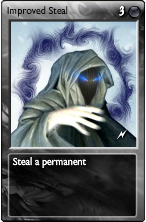 Hand Control: 6
This fake-god tends to bring a few voodoo dolls in play and use one or two rage elixers on them granting them 12/8 stats i would recommend any card that is able to finish them in one blow, maxwell demon (only works when  he used rage elixer twice) or a high stacked fire lance.
if you can get rid of those voodoo dolls, you took away most of his dmg output. a steal / deflagration on his weapon should leave him defenceless.
note: i dont know if lobotomize works on the voodoo passive it might be a valid trategy
no you cannot remove passives from a card (like chrysoara's poison when devoured) - tim0tim0
You can use Parallel Universe their voodoo and it would damage him like you cast rage elixir on your voodoo, and you can use antimatter to his voodoo later to reduce his damage, but use it only on when their voodoo hp isn't lower than 6 else he will just destroy them with rage elixir. Antimatter will also make his Vampire Voodoo(Liquid shadow on voodoo) deal damage to himself because of negative attack. After that, it depends on luck that your voodoo won't miss on attacking his Dusk Mantle.
A deck with 6 antimatter, 6 parallel univer and 18 pendulum(depend on what is your mark, Aether or Entropy) is very effective on him, I won 2 times out of 3 times from this deck.(the time I lost is when he didn't use a single rage elixir and he just spam liquid shadow on voodoo and use his weapon to kill me)
I beat him running nymph deck. you just need fast enough damage and arctic squids to freeze any voodoo he buffs. water shield and shard of patients help. (shard can raise hp enough to protect against rage potions) I run 19 water pillars 5 nyphs tears 3 squids a  water shield and 2 shards of patience.
---
Fake Gods
Akebono

Chaos Lord

Dark Matter
Decay

Destiny

Divine Glory

Dream Catcher

Elidnis

Eternal Phoenix

Ferox
Fire Queen

Gemini
Graviton

Hecate

Hermes
Incarnate
Jezebel

Lionheart

Miracle

Morte
Neptune
Obliterator

Octane
Osiris

Paradox

Rainbow

Scorpio

Seism
Serket
Ad blocker interference detected!
Wikia is a free-to-use site that makes money from advertising. We have a modified experience for viewers using ad blockers

Wikia is not accessible if you've made further modifications. Remove the custom ad blocker rule(s) and the page will load as expected.