List of Cards
Edit
Jezebel has 2 copies of each of the following cards:
Import Code:
6qq 6qq 6qq 6qq 6qq 6qq 6qq 6qq 6qq 6qq 7gk 7gk 7gk 7gk 7gk 7gk 7gk 7gp 7h0 7h0 7h0 7h0 7h0 7h0 7t9 7t9 7t9 7t9 7tb 7tc 7tc 7ti 7ti 7ti 8pt

Permanent Control: 8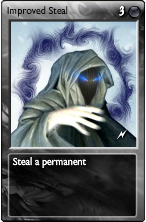 Jezebel relies on her Nymphs and Cloaks to make her cards invincible.
She will use the tears on a Water Tower first to make a Water Nymph that fuels power for the other nymphs. Her Nymph supply comes randomly from her Quantom Towers so Quicksand and Earthquake are good cards to wipe them out quickly. Pulverizer is a good choice that will damage and destroy Towers.
Jezebel uses the card Cloak to cover her cards from you. When the Cloak is on its last turn, she will play another one. Use cards like Inundation and Fire Storm that will damage multiple enemies without needing to target them
Use cards that are invincible because she has Steal and Siphon Life. An Anubis is very helpful in situations like this.
Other than that use high-attack hitters that are immune such as Elite Phase Dragon so that she cannot use Nymph powers on it. Healing cards are very usefull in this battle.
Immunity and widespread damage is key for this battle, use them correctly and you will secure yourself a victory.
Another very strong card is Enchant Artifact to use on her towers; once done she is not able to use Nymph's Tears on them and can´t do anything. Luca04 (talk) 11:34, August 14, 2014 (UTC)
---
Fake Gods
Akebono

Chaos Lord

Dark Matter
Decay

Destiny

Divine Glory

Dream Catcher

Elidnis

Eternal Phoenix

Ferox
Fire Queen

Gemini
Graviton

Hecate

Hermes
Incarnate
Jezebel

Lionheart

Miracle

Morte
Neptune
Obliterator

Octane
Osiris

Paradox

Rainbow

Scorpio

Seism
Serket
Ad blocker interference detected!
Wikia is a free-to-use site that makes money from advertising. We have a modified experience for viewers using ad blockers

Wikia is not accessible if you've made further modifications. Remove the custom ad blocker rule(s) and the page will load as expected.