Pretty much... this is a golden dragon rush.
17/18 light pillars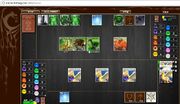 6 golden dragons
2 holy lights
4/5 miracles
I just thought of this deck, and played it in the trainer a couple times against lvl 5. I won 6 times, and lost to what I think is the only weakness of this deck: the gravity shield.
Basic strategy is obvious. Lay down all your light pillars and light dragons. Don't be stupid and lay down a light dragon when you are at low health. Instead, conserve your light quanta to play a miracle the next turn. Also, since many AI lvl 5s play chimera (for some odd reason), and your dragons quickly kill these off, you may often find yourself not taking damage at the end of the game (or taking very little). In this case, play a miracle a turn before you expect to win, and play a holy light the last turn. Then you can get an elemental mastery. In general, use holy lights to protect your dragons. AIs will often play a lightning as soon as they have one, giving you time to heal.
Here's the import code, have fun:
5l8 5l8 5l8 5l8 5l8 5l8 5l8 5l8 5l8 5l8 5l8 5l8 5l8 5l8 5l8 5l8 5l8 5l8 5l8 5la 5la 5la 5la 5la 5la 5lc 5lc 5li 5li 5li
Ad blocker interference detected!
Wikia is a free-to-use site that makes money from advertising. We have a modified experience for viewers using ad blockers

Wikia is not accessible if you've made further modifications. Remove the custom ad blocker rule(s) and the page will load as expected.