Pauly Harts Newbie Rainbow Deck Edit
Element: Time
Edit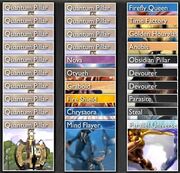 3 Quantum Pillars
1 Dagger
14 Time Factories
3 Deja Vu's
3 Fate Eggs
1 Procrastination
2 Reverse Time
2 Golden Hourglass
1 Devonian Dragon
2 Anubis
4 Obsidian Pillars
2 Devourers
1 Parasite
1 Steal 
 
Sell:
 
3 Deja Vu's
3 Fate Eggs
1 Procrastination
2 Reverse Time
1 Devonian Dragon

You Should Have:
 
324 Gold Coins
 
Buy:
  11 Quantum Tower (All)
1 Parallel Universe (Aether)
1 Firefly Queen (Air)
1 Mind Flayer (Water)
1 Chrysaora (Water)
 
Place them into your deck
 Sell:
 
1 Dagger
13 Time Factories
1 Obsidian Pillar
 
Buy:
 
1 Fire Shield (Fire)
1 Nova (Entropy)
 
Sell:
 
1 Anubis
1 Obsidian Pillar
 
Buy:
 
1 Otyugh (Gravity)
 
Sell:
 
1 Golden Hourglass
 
Buy:
 
1 Graboid (Earth)
 
Sell:
 
1 Obsidian Pillar
 
Strategy:
There's a lot going on here. Deffinatly want to work on buying and selling more and more. I wouldn't recommend more than 45 with a rainbow newbie. Here are some suggestions to buy and sell (Not in any order)...
Buy:
 
1 Empathic Bond
1 Purify
1 Phase Dragon
1 Immortal
1 Lycanthrope
1 Plague
1 Sundial
4 to 6 Quantums
 
Sell:
 Remaining Two Pillars

This should be it! Have fun getting started!
Ad blocker interference detected!
Wikia is a free-to-use site that makes money from advertising. We have a modified experience for viewers using ad blockers

Wikia is not accessible if you've made further modifications. Remove the custom ad blocker rule(s) and the page will load as expected.