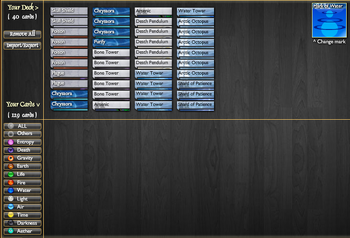 Hello there, chrissteel here. A
ctually gold-league member and Elements player since 2011. 
At the road to platinum league I constantly search for "farm" decks that provides good profit in gold, score and bonus cards at the spins.
The poison octopus deck is one of the most popular decks among the game. It has an budget version, replacing the Arctic Octupos by Freeze (congeal) and Ice Bolt for creature control.
It no longer needs upgraded cards playing at bronze league, if you want to play at Silver try to upgrade at least the pillars.
I use a total of 15x upgraded pillars: 5x Bone Towers, 5x Water Towers and 5x Death Pendulums. I also use the Mark of Water because of the activate ability of the Arctic Octopus.
The creatures consists in 5x Chrysaora and 6x Arctic Octopus. 
The spells are 4x Poison, 2x Plague and 1x Purify.
Finally we have the permanents, which are 2x Skull Shields, 2x Arsenics and 3 Shards of Patience. A total of 40 cards.
The main strategy is to congeal the enemy creatures and poison your enemy. Control the board with your Octupos ability, if the enemy creatures are immortal and/or become buried the Skull Shield it's an alternative. Also, the Plague can deal with multitudes. To inflict poison stats to yours opponents life your options are: Chrysaora's ability, Poison and Arsenics. The second way for winning is using one Shard of Patience to grow your little water creatures into big Krakens. I use only one purify for the spell did not turn against the sorcerer, it will be a shame if you're playing with this deck and lose the game by poisoning.
I hope you guys enjoy this guide, and I really need to apologize about my english, I'm not an expert and might be a lot o errors in my posts.
cya - chrissteel :D
Ad blocker interference detected!
Wikia is a free-to-use site that makes money from advertising. We have a modified experience for viewers using ad blockers

Wikia is not accessible if you've made further modifications. Remove the custom ad blocker rule(s) and the page will load as expected.