Schrydinger's Bones
Talk

4
1,633pages on
this wiki
Not just your ordinary vulture-feeding deck, this deck feeds bone walls and soul catchers who feed Chrysaoras which pump out poison like a factory. Best of all, a massive flood creates a mass extinction, wiping the top and bottom rows clean while further increasing bone wall counters. And it all begins with a cat. Note: This deck is for grinding Level 3 AI with STYLE.
Deck makeup: 45 Cards
Edit
Import Code:
4vc 4vc 4vc 4vc 4vc 4vc 4vc 4vc 4vn 4vn 4vn 4vn 4vn 4vn 4vq 4vq 4vq 4vq 4vq 52g 52g 52g 52g 52g 52g 52n 52n 52n 52n 52r 52r 52r 52r 52v 52v 52v 52v 52v 52v 5i5 5i5 5ih 5ih 5ih 5ih 8pp

Strategy:
Edit
Firstly, play all your Amethyst Pillars and Soul Catchers. Then play Schrodinger's Cats to fill the middle row. After that, start generating Death Quanta by activating the cat's ability. Play the Bone Walls and Boneyards. If you feel that you don't have enough cat's don't play Boneyards first as they will clog up your middle row. Then play Chrysaoras and Flooding and watch the Bone Walls get more and more until it's overkill, like the picture below. Antimatter opponent's creatures for Elemental Mastery. Nonetheless, if worse comes to worse when fighting a creature-control heavy opponent, you have no choice but to deck him out and hope for the best.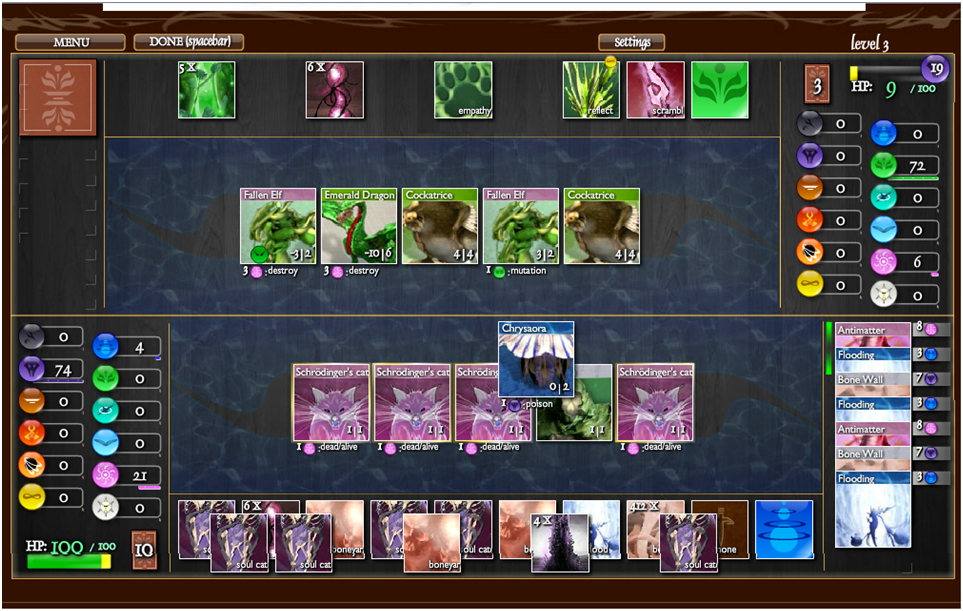 Notice the Bone Wall counters?
Also great for feeding Vultures.
Comments:
Edit
Please place your comments in the talk page. Thank you.