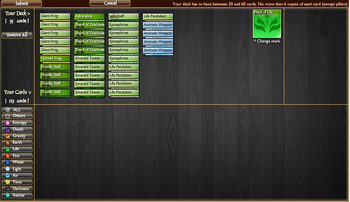 Hello there, chrissteel here. A
ctually a gold-league member and Elements player since 2011. 
At the road to platinum league I constantly search for "farm" decks that provides good profit in gold, score and bonus cards at the spins.
The most popular deck is the monolife aggro. This is my version, it has no secret and is easy to play. Even the non-upgraded version can farm at the Silver-league (even Gold if you're lucky), but it has more effective play at the Bronze.
This 35 cards deck consists in 10 pillars (or towers), I use 5x Emerald Towers and 5x Life Pendulums, an alternative facing earthquakes. I use only 6x Horned Frogs as creatures, again, the upgraded version of this card depends on your meta. The permanents are 5x Druidic Staffs and 4x Shard of Gratitude. The spells consists in 6x Adrenalines (or Epinephrines) and finaly we have 4x Animate Weapon (this one have to be upgraded).
The meta is simple, try to finish your opponent before he can reaches de mid/late game. Rush out your frogs with the popular adrenaline combo and punish him with high damage. Your only protection are the permanents that gives you life, the Shards and the Staffs will keep your health points safe. Also, if you can animate the Staffs and cast adrenaline on them you'll have a strong self-healing. 
This deck has a lot of bad situations, your creatures can easily be killed and shields are a real problem. I recommend to always keep one frog/staff adrenaline combo at hand. You can also splash with fire or dark to have some permanent control.
I hope you guys enjoy this deck guide and any gramatical errors, please report.
cya - chrissteel :D
Ad blocker interference detected!
Wikia is a free-to-use site that makes money from advertising. We have a modified experience for viewers using ad blockers

Wikia is not accessible if you've made further modifications. Remove the custom ad blocker rule(s) and the page will load as expected.