Import Code:
4sa 4sa 4sa 5de 5de 5de 5de 5de 5i4 5i4 5i4 5i4 5i4 5ig 5ig 5ig 5ig 5ig 5jm 5jm 5jm 5jm 5up 5up 606 606 606 606 606 606 8pp

Play all pillars/pendula straight away!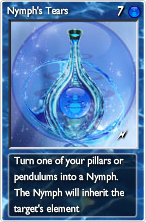 Initiator
Use this card to generate your first Nymph Queen, or, in case of excess water-quanta/emergency, to speed up Nymph-production.
'
Stable Nymph-producer
Use this card to generate more Nymph's of the required/available type. Same functionality as Nymph's Tears-card, but lower quantum-cost. Can also be used to take out critical enemy pillars. Think ahead about which of your pillars to cannibalize: you may gain a Nymph, but lose quantum-production.
'
Attack/time booster
The adrenaline-power of the Green Nymph is versatile. It allows the targeted unit to attack multiples in one turn, but also to recover faster from effects like freeze, time bubbles and petrify. In case of boosting attack, casting it on a attack-3 unit (Green Nymph/Black Nymph) is most effective. Be very cautious with adrenalizing poisoned units.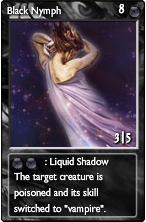 '
Multi tasker
The Black Nymph serves as an extra target for the Green Nymph's speciality. In addition, its power is highly usefull/versatile. It can be used to poison+"lobotomize" one of your opponent's units. In case of low health, one of your own units can also be turned into a (poisoned) vampire. Use dark-quanta wisely; they might also be necessary for stealing.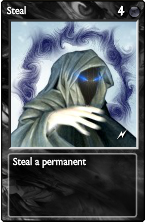 (2)
Permanent-control
Only use in case of emergency, or to ensure immediate victory. Think ahead about the quantum-cost for using it.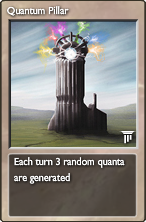 Quanta plant
While the other pillars/pendula have a dual use (quantum-production/Nymph-template), the quantum pillars are your most productive quanta-producer and limit the impact of enemy devourers/discord. Cannibalize last, or in case of emergency.
Weaknesses
Edit
- Any deck that manages to kill/disable your first Nymph Queen.
- Immortal creatures.
- Wings/phase shield spam.
Ad blocker interference detected!
Wikia is a free-to-use site that makes money from advertising. We have a modified experience for viewers using ad blockers

Wikia is not accessible if you've made further modifications. Remove the custom ad blocker rule(s) and the page will load as expected.